In order to win in content marketing, your content marketing strategy should include at least (perhaps more) two easy steps:
Create great onsite content with content marketing (which we have discussed at length before)
Promote that onsite content.
This ultimate guide to promoting your published content is all about the other side of the equation—the side that gets neglected by most content marketers.
Everyone knows the importance of publication in content marketing (otherwise, you'd have no "content"), but for many marketers, that's the end of the line. Once a piece is created, your job is pretty much done, right?
Wrong. In fact, the tactics you use to promote and nurture your published content have just as big of an impact on your overall results as the quality of your content in the first place. Without a proper follow-up strategy, even your best content strategy might fail to live up to its true potential.
In this guide, I'll explain the concept of promotion and nurturing, why it's important for any content marketing strategy, and of course, the specific tactics you'll need to leverage in order to maximize your content's visibility. As usual, this guide (like our other definitive guides) is broken up into clear sections, so feel free to jump around to the sections that matter most to you and your brand.
Content Strategies: The Fortune is in the Follow-up
Let's start by taking a look at why a content promotion and kick ass content strategy is important in the first place. Theoretically, your content marketing strategy should speak for itself; the whole idea behind inbound marketing in general is that if you offer enough value to people, they'll naturally come to you. But as you'll see, this isn't exactly the case – especially in today's crowded content market.
Content Strategy Vacuum
When you publish your first post on a blog with no existing readership, no social media following, and no external ties, links, or support, you're essentially publishing content in a vacuum.
The vast majority of online users don't go out of their way to track down content strategy; instead, they rely on connections that are already established, such as news sources, friends, and social media sites.
Your content should represent your "best guess" at your consumer's behavior.
Without any meaningful connections, there's no way for users to discover your content, and even if that content is a masterpiece, it's not going to bear any significant effects for your brand. You can think of this as a variation of the "if a tree falls in the forest and there's nobody around to hear it, does it make a sound?" argument, and that analogy has been made in the past.
But personally, I think the more accurate analogy is the tagline to the movie Alien: "in space, no one can hear you scream."

In effect, you can scream as loud as you want—creating content you want—but it's not going to matter unless you can get that successful, kickass content strategy in front of the right people.
The goals of promotion and nurturing
Getting your content seen by more people is a big part of your promotion and nurturing strategy, but that isn't the only goal.
There are many benefits to promoting and nurturing your material, which manifest differently depending on what you're promoting and how you're promoting it:
Increased visibility. The first benefit is somewhat obvious. When you circulate a piece of content, or put it in front of a bigger audience, you're going to get more visibility for that piece. It's why so many brands take to posting their content through social media channels, showcasing their best work for thousands of people (or more). This visibility increase not only makes the brand more approachable to more new people, but also funnels more traffic and links to the page on which that content resides. You'll find your promotion also has a compounding effect; as more people see your content and engage with it, it will become even more popular, and may even end up supporting and promoting itself among your new readers and followers.
Rejuvenated interest. You can also use successful content strategy as a way of rejuvenating interest in some of your older posts. Remember, creating content asset you create is permanent (if you want it to be), and because content marketing strategy is a long-term strategy, the value you've created never really goes away. Let's say you wrote an amazing piece about a new technology in your industry a few months ago, but since then, interest in the piece has tapered off. Knowing its past popularity, you could redistribute the piece and drum up new interest in what otherwise would have gotten buried and forgotten.
Maximizing efficiency. Promoting content is also about maximizing the efficiency of your successful content strategy. It takes significant time and effort to create each piece of content (if it's truly high-quality), so it's in your best interest to tap each of those assets for everything they're worth. Think of it like this; if you're a farmer and you have a certain number of acres of land, it's in your best interest to maximize the yield for each of those acres, regardless of how many you have, or how much you're selling your crops for. Promotion and nurturing are ways to maximize the potential value of every new piece of content you create.
Filling your other strategies. Finally, promoting your content isn't just about drawing more attention to your content strategy, specifically. Successful content strategy is inextricably linked to many other marketing strategies, including SEO and social media marketing. Strategically promoting your content on certain platforms, or with certain target audience, can help you complement and improve your performance in these peripheral campaigns.
Types of content promotion
Throughout this ultimate guide to promoting your published content, I'm going to be walking you through the many types of content promotion that you can engage in.
These vary from free to expensive, from easy to hard, from temporary to long-term, and offer many different advantages and disadvantages between them.
I encourage you to familiarize yourself with each approach, and decide on an individual basis whether or not each one is right for your brand. Some brands may wish to use all these strategies in conjunction with each other, complementing all their strengths and weaknesses at once, while others may wish to focus on the one or two most likely to bring them results.
In any case, here's a briefer on where this guide is going from here:
Social media. Social media is a broad term—as you well know, there are dozens of different social media platforms, including Facebook, Twitter, Instagram, LinkedIn, and Pinterest. All of these platforms allow your brand to create a free account, which you can then use to start attracting an intended audience and promoting your content. The real power of social media marketing is the ability to attract and retain an audience; as your target audience gets bigger and more passionate about your brand, every promotion you make becomes more beneficial to you. For example, when content marketing strategy Institute tweets, they reach potentially over 180,000 followers.

(Image Source: Twitter)
Email marketing. Email marketing is another inexpensive means of promoting your content, and like social media, it offers compounding returns. As you develop a reputation for creating content, you'll earn more subscribers, and as your subscriber base grows, your promotion potential grows alongside it. You can use email to selectively promote individual pieces of your blog (like a newsletter), promote an upcoming webinar or eBook, round-up top posts from your on-site or off-site content, round-up the best content marketing strategy from other influencers in your industry blogs, or make exclusive content offers.
Influencer marketing. Influencer marketing is a way of harnessing the existing influential power of other authorities in your industry. There are several ways you can do this, including working together with other authorities to produce content that each of you can promote, cross promoting your materials, or even simply earning a mention from a well-known industry figure.
Links. Both internal and external links are valuable in funneling traffic to your most important content assets. Internal links will help direct more of your users toward your best pieces, while your inbound link building strategy can boost the page authority and search rankings of those piece (be sure to also check out our guide to link building )
Social bookmarks. Social bookmarking sites and other content communities were specially designed to find, collect, and showcase content from the far corners of the Internet. Submitting your content here has a potentially high payoff in terms of visibility, but it's not exactly reliable.
Paid advertising. Paid advertising is one of the more direct ways to promote your content. While I'm typically a fan of less expensive, more organic, long-term strategies like the ones I've referenced above, paid advertising can be a strong short-term measure to get more eyes on your content.
Transformations. Finally, you can transform your content into different mediums, applications, or angles in order to generate new interest in it or help it appeal to a different segment of your target audience.
Next up, I'm going to examine what you need to do to get ready for your promotion and nurturing strategy, as you'll need certain elements in place before you can begin making the most of your content. From there, I'll dig deeper into the details of each of the promotional methods I briefly described above.
Setting the Stage of Your Content Strategy
Before you get too excited about promoting your content, there are a few structures and elements you'll need to put in place. Why? First, you need to make sure that your content can be promoted effectively—for example, if your links aren't working or if your content isn't loading properly, you could have a major issue. Second, you'll need to make it easy for your content to spread. Think of promotion as igniting a spark; you need plenty of kindling to turn it into a fire. Finally, you'll need to do some research to make sure you're targeting your content correctly in the first place.
Step By Step Guide To Ensuring Content Visibility
Let's start with the easy one: making sure your content is visible.
Picking the right content. Not every piece of produce content is going to be worth the effort of promotion, especially if you're paying for it with paid advertising. For your promotional efforts, you'll want to develop the best, most in-brand content you can; this will maximize its potential reach. But beyond that, you'll want to choose topics that are especially shareable, such as ones that form an emotional bond with your readers, and you'll want to make sure there's some kind of hook, like a clever headline or a strong visual component. On top of that, if you want your blog post to have an indefinite lifespan, you'll want to choose "evergreen" topics that won't ever be considered out of date or no longer relevant.
Timing considerations. Speaking of timing, you'll want to time your content appropriately. If you're running news-style topics, you'll need to make sure all your promotional efforts are concentrated while the topic itself is still relevant.
You might also have seasonal content marketing strategy, which is only relevant during a certain part of the year; for example, you might have a number of topics about the holiday shopping season. If this is the case, you'll only want to circulate these posts during those relevant times of the year, so keep them separate. Beyond that, try to capitalize on new trends, technology, news, and information as it rolls out when you plan to syndicate and distribute your material.
Browser and device compatibility. Next, you need to make absolute certain that your content is loading properly, across all browsers and devices, before you start distributing it. The last thing you want is to push a link out to your social media channels only to have your users arriving confused at a 404 page or a mess of improperly loading content. Browserstack is a great resource here; with it, you can simulate how any page of your website appears to various different devices and browsers. You'll want to pay close attention to how your images and videos appear, and how your content layout changes from device to device.
(Image Source: Browserstack)
Search optimization. You'll also want to make sure your posts are optimized for search engines. I've covered the basics of on-site optimization before, so I won't get into too much detail here. Basically, you'll want to include strong keywords and phrases throughout your article, as well as in your headline, your title tag, your meta description, and any header tags you're using. Ideally, when you promote your content, you'll earn shares and inbound links, which can help your content rank higher in search results; but taking these optimization measures will ensure your content gets visibility for the right keywords in organic search results.
Social Media Icons
I'm always amazed at how many people miss this basic function. It's ridiculously easy to include social media share icons on your website, so there's no excuse not to do it. Every post you create should have clear, prominent share buttons that your users can click to share your material with their followers. This isn't a direct promotional strategy, since you won't be the one doing the work, but you should make it easy for users who don't mind doing some of the work for you. Including these buttons can significantly increase the number of people who end up sharing your post, which exponentially increases your piece's long-term potential.
Comments and On-Page Interactions
As another easy add, make sure that you have plenty of opportunities for your users to engage with your material directly. At SEO.co, we allow comments on all our blog post to facilitate and encourage discussion, and your site should too. The more discussion your post generates, the more visibility it's going to get, and the greater impact it's going to have on all incoming users who are seeing it for the first time.
Any other forms of interaction you can include, such as interactive quizzes or calculators, can also be beneficial in securing more engagement and shares.
Find Ways Know your Audience
Finally, before I turn my attention to the individual strategies and platforms, you'll be using to promote your content, I want to stress the importance of knowing your target audience. Before you go any further with your content marketing strategy, you need to know exactly who your target demographics are, what kinds of platforms they use, how they find their content, and how you can best reach them. Only with this information will you be able to choose the most effective initiatives and platforms to support your strategy. If you aren't sure where to get started here, the SBA has some great resources on how to conduct market research.
With that knowledge in mind and your site set up for long-term content promotional success, let's start dissecting the strategies that can maximize the potential of your content strategy.
Social Media Syndication and Engagement
First up, we have the strategy that almost everyone thinks of first when it comes to content promotion: social media syndication.
Why is social media syndication so popular? Because it's free, relatively easy to use, and it offers the potential of exponential growth. Ideal for both one-time and long-term content runs, I highly encourage social media distribution at a bare minimum for every brand. Let's explore the reasons why, and how to use social media effectively.
Choosing the right platforms
One thing, understand that social media marketing isn't a magical gateway to more visibility and a bigger target audience. Some platforms are going to matter to your brand far more than others, and it's up to you to decide which ones those are. It's not an easy decision, nor is it necessarily straightforward, but narrowing your scope of syndication to only the platforms that are most effective initiatives for your brand can help you maximize your return while cutting back on wasted time.
Demographic considerations. Your first job is to take a look at the demographic makeup of each platform, and weed out any platforms that aren't a good fit for your brand. There's basic information, such as age groups of users (Snapchat, for example, tends to skew toward teenagers and young adults), but also more behavioral and qualitative information to consider (LinkedIn, for example, is mostly used by working professionals). Other platforms, like Facebook, have a broad appeal and are worth pursuing for almost any business strategy. If you're looking for a good all-in-one source for social media demographic information, Pew Research has a fantastic breakdown.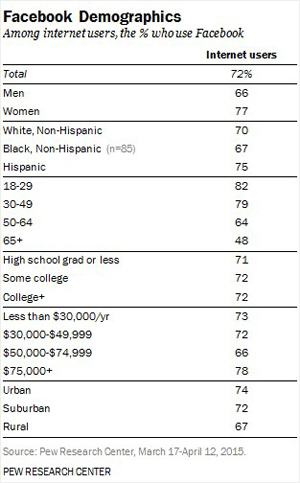 (Image Source: Pew)
What are your main goals? Next, consider what your main goals are, as different platforms are going to offer you different advantages. For example, if your main goal is to increase your brand visibility, a platform with high potential reach and impact would be good, so Instagram should be a major priority (thanks to its 400 million+ user base and visual nature). But if your main goal is to facilitate engagement and conversation, Instagram isn't a good choice—LinkedIn might be better, since it's more geared toward group-based interaction. If you're trying to get more traffic alone, a platform like Facebook or Twitter, which caters to newsfeed scrolling and clicks to external sites, is best.
What does your target audience want? You'll also want to think about how your target audience finds its content, and how it uses its social media platforms. For example, most young Instagram users want to use the platform to see cool images their friends have posted, get creatively inspired, or otherwise be entertained one image or video at a time. It's probably not a good place to promote your eBook to this demographic in this way.
What are your competitors doing? If you've been thinking about the above points and you feel a little stuck, don't worry. These are highly conceptual points, and they don't always provide a clear answer. One of the best ways to get inspired is to see practical examples of people who are already engaging in these strategies; and the best way to do that is by looking at your competition. Make a list of some of your closest competitors, preferably some who you know to be engaging in a content marketing strategy. Take a look at how they're promoting their content on social media—in what ways are they effective? In what ways are they ineffective?
What would complement this platform type? If you're like most businesses, you'll be using multiple platforms to support your content marketing strategy, but that doesn't mean you should use them all in the same way. Think carefully about the types of content that would work best for each platform. For example, Pinterest and Instagram are surefire bets for anything with a solid visual component but may be best avoided for purely text-based content.
Initial promotion
Once you've got a loose strategy set in place, and a good understanding of what types of content promotion you'll be pursuing, you can begin. Ultimately, there are two ways to promote your content in the social sphere, and the first is with initial promotion. With this strategy, you'll be circulating a new piece of content to your intended audience for the first time.
Selling the post. Once you've proofread your post and formally published it on your website, it's time to take it to your social media audience to see what they think. Choose which platforms you want to use and draft a post for each of them. You'll want to include a link and at least one image (or video) with each one; you can't get traffic and readership without the link, and engagement rates tend to be higher with posts that have a visual element. It's a common, but lazy technique to simply include the article's headline as the opener—it may be in your best interest to optimize this text to really sell the post. For example, instead of "X ways to improve your content promotion," you can tease your target audience with something like, "this is the last post you'll ever need a content marketing strategy—find out how the pros do it!" Keep your target audience in mind here, and make sure every platform you post on has something a little different.
Automated options. It's worth noting that there are several automated options you can choose that will help you promote your latest content instantly. For example, NextScripts is a WordPress plugin that allows you to push your latest blog post to any number of your external social media platforms instantly, without having to think about it. It's a great tool to help you remember this important step, and it could accumulate to save you hours of work. Just make sure you get a chance to edit the posts before they go live.

(Image Source: NextScripts)
Initial "boosts." Simply pushing your content to social media should be enough to give it a little more visibility—especially if you already have thousands of followers. But still, you could use an extra "boost" to make sure your piece generates some initial momentum. There are a few options here; for example, you can ask your employees, friends, or family members to share the post with others. This will increase your share count, making the piece seem more impressive, and instantly connect your work with thousands of new eyes. You can also distribute the work via any personal brand social media channels you may have serving as peripheral outlets, such as the CEO's Twitter account, or other employee social media accounts.
Facebook allows you to boost your posts (for a price) so they reach more of your target audience, and this can be a great way to get an initial boost of syndication with your audience.
LinkedIn groups offer another great channel for getting initial visibility. Start by joining as many LinkedIn groups as you can that are relevant to your industry or business (as of time of writing, the limit is 50 groups per account). Once you're accepted into the groups, participate in them and add your content to them as discussions.
Ongoing content syndication
(It's a marathon, not a sprint!)
The other route for social media distribution is ongoing syndication. Here, you'll be reposting your older pieces of content on a recurring basis. Obviously, newer content is better, but syndicating your old material will help it be seen by people who missed it the first time around and may re-spark interest in your older concepts. Plus, you need to be posting almost constantly if you want to stay relevant in social media—and your archive of content can help you do it.
Timing considerations. There are a couple types of timing considerations you'll need to bear in mind here. First, it's not a good idea to repost your latest material the day after you initially promoted it. Instead, wait at least two weeks, preferably a month or longer, before distributing it again. This will help you avoid appearing too repetitive. Re-posting content on social media is beneficial, but it must be done strategically.

(Image source: Kissmetrics)
Second, you'll need to make sure your streams of content posts are timed appropriately for each platform. For example, your Twitter users probably wouldn't mind seeing you posting five times per day or more, but your Facebook users wouldn't be nearly as happy about that. Find a rhythm that works for your target audience and platform of choice.

(Image source: Kissmetrics)
Renaming and reframing. To seem fresher and less repetitive, it's a good idea to retitle your work, or at least reframe it in a different context. For example, my example in the previous section led into an article with the phrase, "this is the last post you'll ever need for your content marketing strategy—find out how the pros do it!" Adjusting it to something like "Your content promotion strategy is about to be transformed—check out these new amazing tactics!" will generate more interest and fewer eyerolls.
Targeted promotion
Depending on your goals and your target audience, you may also be able to target specific people, events, or opportunities in your content promotion strategy. These can be applied to either your initial or ongoing promotional efforts.
Special timing. You may choose to withhold promotion of a certain piece until a certain amount of time passes, or until something changes. For example, seasonal content, as I've mentioned before, performs remarkably better when promoted during its intended season. You may also dig up an older post that has become relevant recently due to a news event or a new development in your industry.
Audience targeting. Some platforms, including Facebook, offer special ways to target certain segments of your target audience with your distribution. For example, Facebook offers a unique targeting feature that allows you to narrow your potential readers based on factors like age, geographic location, or even certain interests (much like you would in a marketing and advertising campaign). be sure to take advantage of this when you can.
Hashtags. You can also use hashtags on platforms like Facebook, Twitter, and Instagram. Hashtags are meant to categorize posts and make them more searchable, with a peripheral intention to help promote special events or trends. By using them in your posts, you'll make your content potentially more visible to the public. However, you can't just stuff hashtags into your posts randomly; make sure you understand what they mean and that you're using them appropriately, or you could harm your reputation more than boosting it.
Discussion encouragement
On social media, you'll also want to take the time to spark discussions. Having more users talking about your post will bring more attention to it, as it will likely rank higher in subscribers' newsfeeds and become visible to extended followers of people engaged in the discussion. Here are three ways to do this:
Spark debate. Your first option is to spark a debate—and you know the Internet loves a good debate. As a first-line measure, you can write and syndicate topics that are naturally debatable, such as strong stances on industry developments or (if you're respectful about it) political and economic issues. You could also pose a question to the crowd, even a simple one like "what do you think?" to get people talking. Be sure to get involved with the discussion yourself, as well.
Encourage anecdotes. You can also ask the crowd for anecdotes or examples that either confirm or deny the strength of your material. This may also help improve your own understanding of the topic. For example, if you post "X ways to improve your content promotion," you can ask, "what methods of content promotion have you found to be the most successful?"
Ask for feedback. Finally, on a meta level, you can ask your users for feedback. A simple question like "what did you guys think of our latest webinar?" can instantly bring you a host of user comments (provided it was impactful enough). Not only will this bring more attention to your material, it will give you helpful criticism to incorporate into your next piece.
There you have it—social media promotion and nurturing in a nutshell. There's a lot to learn about your social media efforts, and every business will be unique, so keep a close eye on the pulse of your strategy, and don't be afraid to make adjustments.
Step Guide : Content Promotion with Email Marketing
Your next method is a similarly inexpensive one, with a similar path to potential growth. Start collecting subscribers for your email newsletter on the sides and footer of your website. The more subscribers you have, the more powerful this distribution channel is going to be.
Essentially, you have two potential angles for email marketing: regular newsletters or exclusive offers and editorial calendar. Feel free to include both angles in the same email blast, cover them separately, or cover just one or the other.
Regular content newsletters
The idea behind a regular newsletter and blog post is to take pieces of content, presumably from your on-site blog, and promote them via an occasional email blast. This will increase the visibility of your content and give your subscribers – who are already familiar with your brand and content – a chance to read, share, and engage with them. For example, consider this email blast which promoted one of our recent blog posts:

Timing. There are various studies that suggest different timings for email newsletters initiatives are the "most effective," but as you can probably guess, the answer's going to be different for every brand. For example, if you're only making one new post a month, it doesn't make much sense to send out a weekly newsletter, but if you're publishing content multiple times a day, once a week might not be enough to handle all your content. Think carefully, as you'll want to be consistent, so your subscribers come to learn what to expect. You can also send out different types of newsletters, such as a weekly and a monthly to keep your subscribers up to date.
Selection criteria. You'll need to include at least one post in your newsletter, obviously, but generally you'll want to include a handful—maybe three to five, with one post taking center stage. Which posts should you include? Which one should get top billing? You could opt to support the newest post more than the others, in an effort to give it more of an initial "oomph," or you could opt to promote the concept you think is strongest. However, I encourage you to support the post editorial calendar that's already seen the highest levels of engagement—it's the one with the greatest potential. At SEO.co, we've tested both methods (promoting a single post and promoting a handful of posts in a "top 10" style format). We've found no clear winner in terms of open or click-through rates, so feel free to try these tests with your audience to figure out what they prefer.
Engagement and links to other strategies. You'll want to include engagement opportunities in the body of your email, including calls to action that encourage readers to "read more" by clicking through to your site. It's also a good idea to have immediate social share and/or comment icons that allow your subscribers to engage with your material right away.
"Exclusive" content offers
The other route with email marketing is to offer exclusive content through it, which users can only get (or get early access to) by being subscribers. The advantage here is that it makes subscribing to your email list more appealing, which will give you access to a greater number of users. However, it also means producing content with a slightly lower potential since you'll be limiting its visibility, at least initially, to a small range of people.
Types of content to offer. Generally, if you're offering exclusive content as a special value to your customers, you'll want to make sure it's actually valuable. For the most part, this means seeking long-form content and original research— "above and beyond" types of work that your competitors won't or can't offer. The more valuable it is, the higher retention rates you'll get in your subscriber base, and the more people you'll attract to begin with.
Making content available elsewhere. You probably aren't going to piss anyone off if you eventually make your subscriber-exclusive content available elsewhere after an initial round of email blasts. This "early access" approach is best if you want to maximize the potential value of every piece you create; this way, you can still offer the piece on your site and promote and nurture it in other ways.
Email marketing functions well as a standalone for some businesses, but it's most effective when it's used to promote and complement your content and social media strategies.
Promoting Content with Influencer Marketing
Influencer marketing has some of the greatest overall potential of any of the strategies on this list. The idea is relatively simple, though it's going to manifest in a number of different individual tactics; you'll find an "influencer" in your industry, a person of significant influence who has a huge social media following and a reputation to match, and you'll leverage their influence to get more visibility for your content. Because these influencers sometimes have followers in the realm of 6 or 7 digits, you could instantly become connected to an enormous new audience segment—and it might cost you nothing but a bit of time and back-scratching.
A successful content marketing strategy should be considered an essential part of any business plan. After all, without a planned and executed strategy, businesses risk wasting time and money on producing content that no one wants to read. So, what goes into a good content marketing strategy? The most important aspect is understanding your audience and what type of content they are looking for. Once you have a handle on that, you can start creating blog post, social media posts, and even e-books that will appeal to your target readers. Additionally, it's important to promote your content in the right places. That means identifying the social media channels where your audience is most active and making sure you're active there as well. By taking the time to create a successful content marketing strategy, you'll be setting your business up for long-term success.
Calling upon your content sources
One of the best options you have to appeal to an influencer is to cite them in the body of a piece of content you've written, this shows that you're sincerely interested in their material, gives them a benefit, and gives you an excuse to contact them, all in one. The goal is to have them see this citation, and then share the piece of content with their followers.
Possible angles of approach. There are a few different ways you can approach this. For example, you could take the pure complimentary approach and merely inform them how much you loved their previous work, hoping that they'll respond in kind and share your material. You could also be more direct and ask them to share it if they think the content is valuable—this is especially powerful if you've added something new to the conversation. Or you could instead merely use this as an opportunity to introduce yourself—a starting point to a long-term relationship that you could tap for a future potential benefit. It's up to you and the type of influencer you're seeking.
The email. The easiest way to reach most influencers is via email, but there's a downside to this medium—most influencers get hundreds, if not thousands of emails every day. They're bombarded with different requests, from guest post to share opportunities, and most of them get filtered out as white noise. If you want to be successful, make sure you stand out by being direct, specific, concise, and friendly. Don't waste their time, and don't send something formulaic they've seen a million times already. If you need help figuring out an influencer's email address,  Kissmetrics has an awesome guide on this subject that's worth a read.
(Image Source: Kissmetrics)
The casual mention. If you want to forgo the email route altogether, you could instead opt for a casual mention on social media. Here, you'll promote your content post as you normally would, but you'll also tag the individual or authority you cited in the body of your work. If you're lucky, or if you already have a rapport with this influencer, they'll see you, and they'll probably be willing to share your content from there—or at least comment on it.
Asking for a quote or testimonial
The above set of strategies is ideal if you've already created a piece of content and you want to use an influencer to help promote it. But you can also work with an influencer during the content development strategy & process to make your piece of content more powerful and influential from the beginning. Here, you'll reach out to an influencer in advance for some kind of contribution, usually a quote on a given topic or a testimonial to validate your approach.
Appeal to the ego. Not all influencers are egomaniacs, but everybody likes to be complimented. When you make your request, be sure you appeal to their ego. Instead of saying something like, "I'm putting together an article and I need a quote," say something like, "I'm a big admirer of your work, and I think a quote from you could help me take my work to the next level." It shows you're invested in the person, and that you aren't just using them to make your content better. It also sets a positive tone for the interaction.
Know who you're asking. You'll also want to be careful about who you reach out to. Every influencer has a different niche of expertise, and a different disposition when it comes to working with others on content. If you know someone is notoriously aloof or difficult to work with, don't waste your time. Similarly, don't ask influencers for quotes on subject matter that isn't relevant to their core expertise or main audience. Instead, target influencers you know to be willing to contribute to content, and make sure your topics are relevant to their interests.
Make it a value exchange. When making your request, make sure to play up the fact that this isn't a favor; it's a value exchange. You get a bit of extra value because a known influencer will be contributing to your work, but they'll get a bit of extra value because they'll earn a link from you and gain some visibility from your audience in the process. You probably need the visibility more than they do, but if you currently have a significant readership or following, it's worth mentioning.
Use the appropriate medium. Not all influencers prefer to communicate in the same ways. See what you can do to find the best way to contact them; for example, you can peruse their main website and try to find a direct line of contact, such as a name-specific email address. Or you can see how often they engage in discussion with other social media users to see if social media is a better way to get in touch with them. Make it easy and convenient for them to respond, as much as you can.
After including their quote in the body of your work, be sure to notify them when it's formally published—they'll want to see your finished work, and they'll probably either share it or link to it.
Finding known interested parties
Another angle to leveraging influencers is to seek out authorities who you know have a vested interest in your topics. You can either do this in a top-down, or bottom-up approach. The top-down approach is to find an influencer with a vested interest in a particular topic or niche, then write a post you know he/she would be particularly interested in. The bottom-up approach is to write a topic you like, then hunt for an influencer to match it.
There are merits to both approaches, but either way, you'll have to find an influencer eventually.
Active bloggers. One of the best ways to find an appropriate influencer is to search for active bloggers who have major followings. You can find these bloggers by searching for them directly via your topic of interest (on the web or on social media), or by finding them listed in directories or industry lists. Alternatively, you can use a tool like BuzzSumo to do extensive content and influencer research, and target individuals based on their respective influence scores.

(Image Source: BuzzSumo)
Solving problems. As part of a top-down approach, you can peruse an influencer's blog and note areas where their content seems insufficient, or where their followers are in need of more information. You may even find the influencers/writers themselves explicitly mentioning how they wish they had more information in a particular area. If you can step in and provide this information or solve some problem the influencer or their audience is having, you'll have an instant fast-track to visibility, and you can almost guarantee your piece will be promoted in some way.
Finding known interested parties can be valuable, but it's also somewhat limiting; by its nature, you'll be more restricted in who you can contact, and you may have to reach out to influencers one at a time, stifling your potential at least slightly.
Content collaboration & exchange
A final option you have in working with influencers is forming a kind of partnership. In some cases, this will manifest as a co-authorship, and in others it will merely be an exchange of favors, but either way you'll be working directly with an influencer on material that promotes both of your content (or gives you both content marketing strategy that you can then produce).
Mutual research. One option is to pool your resources and work together on a final product, such as a piece of original research. A great example of this is the content study that Moz and BuzzSumo published late last year, analyzing the links and shares generated by more than a million pieces of content. This is an example of two industry influencers coming together, each with tons of resources and followers, so if you want to work with an influencer before you've earned your own reputation, you'll need to bring something valuable to the table—an original concept or something unique that no one else can offer.
Interviews. Interviews are a much simpler form of content that are somewhat easy to produce. Hopefully, the two of you can get in the same room, but if not, audio interviews can be just as popular as video interviews. You'll write up a number of questions beforehand, interviewing your influencer (and hopefully getting some sincere responses), and when it's complete, both of you will have a vested interest in sharing the completed work with your respective followers. It's a win-win form of content.
Guest posts. Getting even simpler, you could just ask a major influencer if you can contribute a piece of content to his/her blog. Many active bloggers would love the opportunity to host a new voice in their content stream, and you'll get the benefits of additional visibility and reputation by association. You'll just need to pitch an idea that's helpful, original, in line with their brand, and valuable for their target audience. But don't forget that guest posts work both ways—you could also ask an influencer to provide a guest post on your blog, especially if you already have an active readership.
Exchange agreements. After you've developed an informal relationship with an influencer, you can develop tacit exchange agreements. For example, you might each occasionally guest post on each other's blogs, or you might share each other's content on a regular basis. There's a strong mutual benefit here.
There are two huge upsides to this method of influencer marketing for content marketing. First, it automatically gives you knew content with a promotion system already in place. Who doesn't want that? Second, this method of work naturally lends itself to ongoing partnerships and relationships. With it in place, you'll be able to get at least one influencer in your corner and work with them on a number of projects in the future.
Inbound links & Internal Links
Another way to maximize the performance of your content is by building links—both external links pointing back to your domain and internal links in your own blogs cross-referencing your other posts. The former is designed to increase your content's organic search rankings, sending more traffic their way. The latter is designed to keep your visitors on your site longer, while directing them to your best-performing content (not to mention further improving your on-site SEO).
Modern link building can be described as consisting of two main link building strategies: attracting links naturally with great content and building links manually (typically through a link building service). Since attracting links naturally is a combination of producing great content and then promoting it (which is the focus of this guide), you'll need to implement a manual link building outreach program.
Leveraging internal links for content promotion
Fortunately, internal links are a much simpler affair than manual link building. Because these links don't pass PageRank from one domain to another, they're treated with less scrutiny than off-site links. For the most part, these are intended to serve as navigational tools, giving users the chance to easily find your other posts and also to help Google understand how your internal pages relate to each other.
Internal links are a great way to encourage users on your website to your newest content to get eyeballs on it, along with the comments, shares, and engagements that will help it blossom.
With internal linking, there aren't many rules to follow. Just link, as appropriate, to other posts you've written when you feel they'll add value. As an example, take a look at the last few paragraphs and you'll notice how I included internal links to other content marketing on SEO.co.
If your site is on WordPress, you can use a plugin like SEO Smart Links to automatically link certain words or phrases to your content dynamically, throughout your website. It's also a good idea to add links to your content from other posts in the same category.
You can use HelloBar or OptinMonster (both of which are amazing tools) to create static bars, pop-ups, pop-ins, and modal boxes that display to visitors based on pretty much any criteria you choose (time on site, page currently being viewed, referral source, etc.). This can be a fantastic way to create specific, targeted, or even site-wide messages, banners, calls to action, or announcements to your visitors to drive visitors to whatever content you want to promote.
Content Communities and Social Bookmarking
Next up, let's take a look at how content communities and social bookmarking sites can help you promote your content. These are two different concepts, but I'm tying them together because they serve a similar purpose; content communities exist to help content creators submit and promote their material (while also serving as a content discovery portal to non-creators), while social bookmarking sites are all about collecting and managing "bookmarked" links to interesting sites. Both involve users submitting content to a central location, which can be browsed and accessed by a content-hungry public. This setup lends itself perfectly to brands trying to generate more attention for specific pieces of content on their sites.
General Considerations for Social Bookmarking
Before you get involved with either type of submission site, there are a handful of considerations and best practices you'll need to keep in mind:
Know your audience. Every social bookmarking and content community site is going to have its own collective community of followers and readers. Each site will have different areas of specialty, different expectations, and most importantly, different forms of etiquette. In bigger sites, you'll find that communities self-regulate according to certain standards of production. If you generate any kind of benefit, you need to plug yourself into these circles and find out exactly what makes these users tick. Only submit content if you feel it's a fit for your target audience.
Never self-promote. Most of these communities' frown upon individuals, or especially businesses, submitting content with the sole intention of promoting their brand. Users rely on these sites to find genuine, interesting content, and if they feel like they're being spammed or advertised to, you'll see a strong negative reaction from the user base—that is, if you aren't red flagged and banned from the outset.
Understand the curve. You also need to be prepared for the visibility curve that's inherent to most of these sites and communities. If you start to become popular, there's a chance that your content could go viral; going viral in a massive community could generate hundreds of thousands to millions of new visitors. However, it's incredibly unlikely that your content will go viral, and if it doesn't you stand to gain little or nothing. It's almost like playing the lottery, but at least there's really no cost in buying the ticket, per se. So, you might as well go for it.
To illustrate some of these best practices and provide direction for your prospective campaign, let's take a look at a handful of examples in each area:
StumbleUpon
First up, we have the social bookmarking site StumbleUpon. Rather than being hosted on a single site, StumbleUpon allows its users to browse the web as they normally would, and bookmark sites and pages that appeal to them. You can categorize these bookmarks according to interest, and then browse specific interests for random pages that other users have submitted. A system of up-voting and down-voting helps increase the circulation of pages that are collectively agreed to be valuable, and weed out ones that aren't. This is a good way to index some of your content—but only if it appeals to a specific niche.

(Image Source: StumbleUpon)
Reddit
Reddit is a massively popular content discovery and social bookmarking site. Similar to StumbleUpon, users can submit pages they think are interesting, then browse and up-vote or down-vote content production they encounter. If you can make it all the way to Reddit's first page, you can expect a volume of traffic that could crash your site entirely; however, this is extremely hard to pull off. Instead, you're better off submitting your create content and engaging with users in one of Reddit's many "sub-Reddits," dedicated to niche interests.

(Image Source: Reddit)
Medium
Medium is a content community but with a long history and a large user base. If you're just starting to dabble in the world of content marketing or content communities, it's a good place to start. Again, the more specific an audience you target, the better.

(Image Source: Medium)
These aren't the only social bookmarking or content community sites out there—not by a long shot—but they are good examples that can help you get brainstorming and possibly get started in this wing of content promotion.
Paid Advertising
Generally, I avoid recommending paid advertising for online marketing, and it's not just because I run an inbound marketing firm; it's because in all the testing I've done, I've never been able to generate a positive ROI from paid ads. I'm not expert, but even after hiring paid channels experts, it has simply never worked for my business strategy.
For some, pay-per-click advertising can generate a positive ROI, but that ROI is capped and tied directly to the amount of money you're putting in. In effect, paid advertising is inherently temporary; as long as you keep paying for it, you'll be able to see a linear return of traffic. Inbound marketing, on the other hand, relies on the creation of permanent assets and compounding growth, which means your content marketing ROI could increase indefinitely, and even if you taper your spending, you'll still continue reaping the benefits.
That being said, paid advertising can be used as a way to promote your create content — especially if all you're looking for is a short-term boost or to "seed" your new content with eyeballs. If you choose to use paid advertising for your content promotion, I highly encourage you to hedge your bets with a number of other, more long-term investments in your brand visibility.
Options for Paid Advertising
You have a few main options when it comes to using paid advertising to support your content marketing strategy:
Build a landing page for a major piece. This is best used for major, landmark pieces of content, like eBooks or reports on your original research. The concept is to create a dedicated page, offering your content as a downloadable digital asset in exchange for a bit of personal information (including an email address, which you can then feed into your email marketing strategy). This is effective because it promotes the value of your landmark piece and earns more subscribers for your email newsletter simultaneously. Because you're reliant on new traffic and new subscribers to maximize the value here, paid advertising can be highly beneficial.
Direct traffic to a guide or report. You could also use paid advertising to direct traffic to a certain page of your site, especially if it serves as a guide or tutorial. If that's the case, you can specifically target search queries or users that imply a need for such a guide, guaranteeing a level of relevance with your target audience. You could also advertise a new report you've generated if it contains some original research; because your information will be time-sensitive, it's worth the temporary paid boost.
Indirect ties. Of course, you could also use paid channels to get people to your main site, or to a contact page or a landing page that simply promotes the brand. This won't increase traffic or visibility for your content directly but could indirectly lead more people to your blog once they're inspired to research your company, just like you may be motivated to research your competitors.
There are hundreds of options for paid advertising on the web, and even more if you count affiliate marketing and general banner ads. But for the sake of conciseness, I'm going to recommend only two heavy-hitting platforms for your campaign, and you can probably guess what they are—Google and Facebook.
Google AdWords
Google AdWords has been the name to beat in advertising for many years, and it's little wonder why. It has some major advantages as an advertising platform:
(Image Source: Google)
Volume. Practically everyone you know uses Google search on a daily basis. The search engine is home to billions of searches every day, and even the strangest niche keywords are capable of generating hundreds of impressions on a daily basis.
Keyword specificity. Google's keyword research tools allow you to get extremely specific in terms of who you're targeting. By selecting very specific keyword phrases, you can ensure a relevant fit for your content marketing efforts.
Facebook Ads
On the other hand, Facebook has developed its own advertising platform in a way that challenges Google with a number of unique advantages of its own:

(Image Source: Facebook)
Audience. Google has tons of search data, but Facebook collects data on people. It knows their demographic makeup, their friends, their likes and dislikes, and even some of their personal behaviors and tendencies. You can target these factors with extreme specificity, breaking free of the keyword grip.
Competition and budget. Though Facebook ad participation is climbing higher and higher, it's still not quite as competitive as Google AdWords. That means you'll generally pay lower prices for your ads and face less stiff competition.
Approachability. Though this is a purely subjective matter, I've found that most people view Facebook's advertising platform as more approachable, or easier to learn than Google AdWords, which has a definite learning curve to its use.
Aside from paid ads, another feature which I mentioned earlier, but which is deserving of another mention, is Facebook post boosting. Facebook has shown a pattern of changing its algorithm to reduce the visibility of create content posted on brand pages, in an effort to get brands to pay for visibility in newsfeeds. It's working. With that said, brands can pay to boost their content marketing efforts and documented content strategy to their fans, and it's relatively inexpensive, as far as paid ads go.
Google and Facebook each have their own advantages and disadvantages, so it's up to you and the nature of your content production to decide which is best for your campaign. You might even choose to use both!
Sequels, Reboots, and Revisits
In this section, I want to talk about all the different ways you can transform your create content to further nurture its growth and visibility. Almost all the strategies I've mentioned thus far have been about taking your content production, unchanged, and generating more attention for it. Now, I want you to think about changing your content itself to support furthering its growth; think of it as the difference between placing real estate ads to sell your house and making improvements to your house to increase its curb appeal. Both strategies will result in a higher likelihood of a bigger sale, but they take a different approach, and in many ways, complement each other.
Content as part of a series
Your first option is to turn your piece of content into a series; in other words, you'll take the idea or format of that first post and expand it into a series of different posts. This is most effective when you have a topic you know has performed well—new parts of the series can capitalize on this popularity, simultaneously earning more immediate visibility and supporting both the past and future of the content series. There are a few ways you can do this.
Individual components. You could take the general topic and apply it to more specific topics or change the specific focus of an article to another, related focus.
Regular features. You could also make a regular feature that keeps some concept, idea, or format consistent across multiple posts. The best way to describe this is through an example—so take Moz's Whiteboard Friday series. Every Friday, Rand Fishkin or another Moz expert uses whiteboard notes and doodles, along with a spoken monologue to describe and explore some specific topic related to SEO and content marketing efforts. Again, because of its consistency, each new post adds value to all the posts that came before it and all the posts that will come after it.

(Image Source: Moz)
Taking advantage. No matter what kind of angle you choose for your series, the true power of a series lies in reflection and anticipation. Every time you create a new post, try to generate anticipation for your next post with a tease or a preview, and link back to your past works in the series.
Updating with new information
Rather than keeping up with an ongoing series, you could support one of your older posts by simply updating it with new information. For example, if you ran a survey in your industry in 2015 around this time, why not run a similar survey in 2016 to see what's changed and what hasn't?
In some contexts, this can serve as a long-term series, updated annually instead of monthly. But in other contexts, this could serve as a form of journalistic correction, or even the inclusion of new anecdotes and arguments. Making a new edit to an older piece gives you an excuse to market and distribute that piece all over again.
Revisiting as a follow-up
This tactic is great for any kind of post that looks to the future. I write a lot about the "future of content marketing" and the "future of SEO," and I'll be the first to admit that while some of my predictions are spot-on, some of them don't come close to hitting the mark. Revisiting an older piece with a new analysis, such as checking to see which of your predictions came true, is a way of hearkening back to your older material, but also shows off your transparency to your target audience, which generates trust.
Transforming into a new medium
As another method of transformation, you can take a piece of content that exists as one medium and transform it into another medium. In some cases, like video transcription, this will mean simply re-doing the material in another form, but in other cases, like generating an infographic from research data, this will require far more investment and creativity.
Creating content and documented content strategy within a new medium allows you to target new audiences, as some portions of the population have different content preferences than others. It's particularly useful in targeting new platforms and syndication channels, such as generating an infographic so you can take advantage of Instagram.
Text transcription. If your original piece of content is visual or audio-only, you can create a written transcription to include with it. This won't necessarily open up doors to new syndication channels, but it will help you optimize your page for SEO and serve the hearing impaired.

(Image Source: TED)
Images. Translating content marketing to still images can be daunting, depending on the degree of effort you choose to put in it. Translating volumes of data into a single, digestible image demands significant imagination and work, but you don't always need to go that far; consider offering simple doodles that illustrate your concepts and ideas. I often reference Tim Urban's work over at WaitButWhy.com as examples, because he's a natural-born content marketing expert. But take a look at just about any of his posts and you'll see hand-drawn graphs, charts, and silly cartoons that illustrate points and provide clarity to his written thoughts. Head over to his post on cryonics and scroll down to see some examples of how he uses charts and illustrations in his text-based posts.
Audio. Audio is another format that's always valid. If you have a video interview, for example, consider offering it as a downloadable MP3 file on your website. If you produce a stand-out piece of create content, consider recording yourself reading it out loud and offering it as an audio file.
Video. Producing a video from another medium is probably the most effort-intensive transformation on this list, but considering the ever-increasing popularity of visual formats, it's well worth the trouble. If you're just starting out, try using Microsoft PowerPoint to create a slide deck that summarizes your content, then record your audio for each slide (which can be your voice using a microphone), then convert the presentation to a video using PowerPoint's native conversion capability.
Webinar. While you're using PowerPoint, create a webinar. In fact, if you've created a slide deck and already recorded a video, you have a webinar! You can present your Webinar to a live audience, or you can record it and play back the recording to a live audience. The choice is yours! After your live webinar is over, be sure to make it downloadable/accessible via your website so people who missed it can still watch it down the line.
SlideShare. After you've created a slide deck, post it to Slideshare for further reach.
PDF. Possibly one of the simpler transformations on this list, you can also convert your blog post into downloadable PDF files, to make them available as standalone resources rather than web pages to browse. For an example of this, take a look at our guide to link building. At the top of the blog post, you'll notice that we've got a message indicating that the post can be downloaded as a PDF eBook. You can convert Microsoft Word documents to PDF files natively, or you can find a designer (using Upwork or another freelance marketplace) to create one for you documented content strategy.
Anthologizing
The last two methods of transformation I'll explore are related opposites. The first is anthologizing, the process of bringing multiple posts together to form a single unit. There are two main options for this:
eBook creation. You could dream up a broad concept that you can cover in detail by stitching together more specific, in-depth posts related to some element of that topic. For example, let's say you've written individual posts about all the different stages of the sales cycle, individually. You could take that content production, and with a bit of editing, adding, and subtracting, you could forge them together into a much bigger, comprehensive eBook, which you could then offer as "exclusive content" for your email subscribers or a downloadable PDF for your page.
"Greatest Hits" style. As an alternative, you could just pick and choose some of the best posts you've written over the course of the year (or another timeframe of your choosing) and host them together in a "true" anthology; think of it like a "greatest hit" of your brand.
Breaking it down
The reverse process is less common because it requires you to start with a bigger, more comprehensive piece of content like an eBook. If you have a piece of content like this, you can break it down into individual sections and chapters, separating out the individual, specific topics that comprise it. From there, all you'll have to do is write up some revised introductions and conclusions (with some editing and formatting, of course), and you can transform your long-form content production into more digestible blog post and social media bites.
Unleash Your Content!
The goals of this guide: "Content Unleashed: The Ultimate Guide to Creating and Promoting a Kick-Ass Content Strategy" we have covered that content marketing is about visibility, reputation improvement, traffic, conversion rate optimization, and alternative marketing support, and you can't achieve any of those if you create content exists in a vacuum. content marketing and nurturing is your way to break out from that level of captivity.
There are so many options for content promotion and support, from maximizing initial reach to transforming and breathing new life into old pieces, that it's virtually impossible to use all of them to support your strategy. Instead, try to specialize in a handful that seem to have the greatest impact for your brand. As always, you'll need to experiment, measure your results, and refine your approach, but as long as you keep supporting your content production with more visibility and more potential for growth, you'll continue increasing your effectiveness and maximizing your returns.
Remember, as an SEO reseller also that we also provide white label reseller support for online marketing campaigns and outreach for content promotion. Feel free to take a look at our digital marketing & SEO reseller guide or get in touch with us today!

Chief Marketing Officer
at
SEO.co
In his 9+ years as a digital marketer, Sam has worked with countless small businesses and enterprise Fortune 500 companies and organizations including NASDAQ OMX, eBay, Duncan Hines, Drew Barrymore, Washington, DC based law firm Price Benowitz LLP and human rights organization Amnesty International.
He is a recurring speaker at the Search Marketing Expo conference series and a TEDx Talker. Today he works directly with high-end clients across all verticals to maximize on and off-site SEO ROI through content marketing and link building. Connect with Sam on
Linkedin
.

Latest posts by Sam Edwards
(see all)